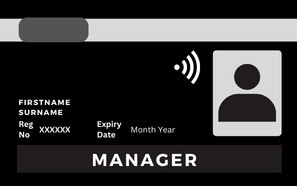 BLACK CSCS Card - MANAGER
The CSCS Black Manager card (previously known as the Platinum card) is available to managers and technicians and lasts for 5 years. It denotes the managerial level of the Construction Skills Certification Scheme and unlike some other cards, it is renewable. Black Manager cardholders can quickly demonstrate that they are experienced and are capable of holding a management position on a construction site - whilst ensuring safety for themselves and those who work around them.
Although construction site workers do not have to obtain a CSCS card by law, it is becoming increasingly essential to have one to future proof your career in the industry. Most construction companies - especially the major ones - insist that employees hold some kind of CSCS card. So even if you are currently working in a management position and have not had one up until now, it is a good career move to be proactive and get one as soon as you possibly can. The benefits of holding a CSCS card speak for themselves:
Increased employability
Increased earning potential
Increased asset to your current employer - many construction companies are aiming to move towards being 100% CSCS compliant
Additionally, all construction firms need to prove that they are compliant with Construction Design and Management Regulations (CDM) by ensuring that employees are skilled and can carry out their roles safely. Being a black card holder will make you CDM compliant and hence a desirable employee.
Black Manager card holders are also eligible for CIOB membership which is a recognised professional construction platform.
The level of NVQ training and qualifications rises sharply for this card and candidates need to have achieved:
A relevant Construction Management/Technical related NVQ/SVQ Levels 4, 5, 6 or 7.
A pre-existing NVQ Level 4 in Construction Management.
It is important to be aware that CSCS do not accept construction related academic qualifications for the Black Manager card. The Black Manager card can only be applied for by individuals who have completed the relevant Construction Management related NVQ/SVQ Levels 4, 5, 6 or 7. Candidates who have achieved construction related academic qualifications need to apply for the White Academically Qualified Persons (AQP) CSCS card. The AQP card is only available to individuals who have completed HNDs, HNCs, CIOB certificates, NEBOSH diplomas and certain construction degrees.
To summarise, NVQs and SVQs are practical skills-based qualifications whereas academic qualifications are knowledge-based. This is why CSCS issues different cards based on which route applicants have worked through. The Black Manager card demonstrates that practical skills have been assessed whereas the White APQ card demonstrates that knowledge has been tested. Both cards are ranked at the same level of seniority, what matters is the list of occupations printed on the back. Depending on the qualifications held, both cardholders can have "Management" listed on the reverse of the card.
How to apply for Black CSCS Card?
As with all the CSCS cards, all applicants applying for the Black Manager card must have passed the CITB Managers and Professionals Health, Safety & Environment test within the last two years. The aim of the test is to examine the participant's knowledge across a rangeof topics in order to improve safety and productivity on-site. The 45-minute test consists of 50 touch-screen questions and a score of 46 or above is needed in order to pass. Five core areas of knowledge are examined:
General Safety
Health and Welfare
Legal and Management
Environment
High Risk Activities
In addition to these five core areas, the Managers and Professionals test also includes questions referencing construction, demolition and highway works. Construction Helpline wants you to pass the CITB Manager Test first time round so that you can obtain your Black Manager card as quickly as possible. We therefore strongly recommend that prospective students invest in our specially produced CSCS revision material which includes CSCS revision books and DVDs. We also recommend scheduling plenty of time in advance to practice your exam technique by using sample test papers and mock examinations. The more you practice, the more prepared and confident you will become in passing your test.
For more information on how to apply for your Black CSCS card or to find out more about our revision material, please call our team of advisors on 020 7199 9800 who will be more than happy to help you. At Construction Helpline, it is our number one priority to make the process of obtaining CSCS cards as quick, easy and hassle-free as possible. That is why we not only offer advice, we also offer practical help by, for example, booking tests for you and applying for your CSCS card on your behalf once you have passed your test. We want to be there every step of the way with you in your career so that you can focus on what is really important to you. Let us take care of all the admin so that you can concentrate on earning the qualifications you need to take your career to new heights.